NEW FLAVORS!
We've taken our orginal honey walnut baklava to the next level!
Introducing Nutella Baklava and Chocolate-Covered Baklava!
Our Story
As immigrants to the United States from Greece in 1975, Vasilios and Kalliope (Kelly) Neofotistos planted roots in New Castle, PA. After years of hard work, the Neofotistos family started their own restaurant in Grove City, PA- with Mrs. Neofotistos's baklava taking center stage on the menu and in the hearts of the community. As their business and family continued to grow, they never forgot their beginnings. The Neofotistos family is paying it forward by spreading the love they received from their community through the love put into their signature Bakluva.
Bakluva gift boxes are available for purchase online. For events and wholesale inquiries, please email us at yourfriends@bakluva.com.
Shop now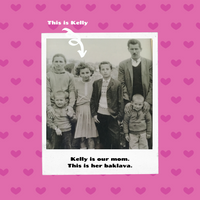 What People Are Saying About US
Wow this was good baklava! Probably the best I've ever had. I will definitely be ordering this for all my holiday gatherings.

Lisa McQuillis
Was so excited to get my sample of Bakluva! Was so delicious!

Delicious pastries · Unique desserts · Great for children · Good for breakfast

Kiki Cohen
Really excellent. It tastes homemade because it is homemade. Highly recommended.

Unique desserts

Thanasis Tsiris
I got my sample today and THIS IS THE BEST BAKLAVA I'VE EVER TASTED!

Looking forward to the official launch so I can #spreadthelove 💞

Aubrey Marie
I received my sample today and it was incredible!! Thank you so much for sending it!

Allison Timco